In Stock
Cure Herbal Enzy Cure (Sugar Free)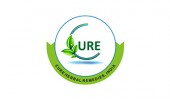 For Digestive Enzyme..
Description
Indigestion, Hyper acidity, Heart burn, Flatulence, Colic pain, Chronic Constipation, Loss of appetite, Dyspepsia, Belching, Uneasiness after heavy meals etc.
Ingrediants
harad (Terminalia chebula Ratz), Bahera (Terminalia belrica Roxb), Aamia (Embica offcinialis), Peepal (Ficus negi Linn), Zeera (Cuminum Cuminum), Snooth (Zingiber Offinalis), Ajwayin (Pthchotis ajowan), Noshadar (Ammonium Cloride), Shora Kalmi (Potassium nitrate), Kali Mirch (Piper nigrum), Pudina (Menthe spicata Linn), Kalonji (Nigella sativa Linn), Saunf (Foemiculum vulgare Linn), Ajmod (Apium graveolens), Sugar (invert sugar base), Sajji Khar (Soda bio carb).
Dosage
Adult: 10-20 ml, Children: 5 ml
Direction
in the morning & evening after meals.
Product Type
Syrup