In Stock
Hamdard Halwa Gheekwar
Brand:

HAMDARD

Product Code:

HKHD0082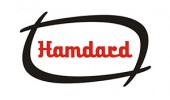 For Rheumatic, Lumbago & Cough..
Description
It removes rheumatic pains and lumbago and is useful in cough and asthma, its use in winter is highly beneficial.
Dosage
25 gm, to be taken in the morning or at night with 250 ml of milk.
Ingrediants
Asgandh nagori, Elaichi Khurd, Aanba Haldi, Talmakhana, Taj, Salab Misri, Khulanjan, Darchini, Zanjabeel, Satawar, Shaqaqul Misri, Qaranfal, Qust Shirin, Malkangni, Majeeth, Maghz Akrot, Maghz Badam Shirin, Maghz Narjeel, Musli Safaid, Musli Sainbhal, Gheekwar Sabz, Ghee, Shakar Safaid, Khoya, Khajoor, Maida Gandum, Arq Keora, Sat Loban, Sat Leemun.
Pack size
250 gm