In Stock
Hamdard Halwa Supari Pak
Brand:

HAMDARD

Product Code:

HKHD0084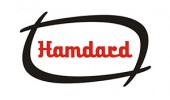 For Nocturnal Emission, Spermatorrhoea & Leucorrhoea..
Description
Its use for 40 days by both the partners helps in affecting conception in women, also helpful for males in nocturnal emissions, spermatorrhoea and decreased viscosity of semen, removes leucorrhoea in females.
Dosage
25 gm, to be taken on empty stomach in the morning with 250 ml milk.
Ingredients
Ajwain Khurasani, Ilaichi Khurd, Burada Sandal Safaid, Banslochan, Beikh Arand, Peeplamool, Peepal Kalan, Pudina Khushk, Taj, Tukhm Khimi, Tukhm Nilofar, Javitri, Jaiphal, Talispatra, Zeera Safaid, Sazaj Hindi, Satavar, Singhara Khushk, Nagar motha, Filfil Siyah, Qaranfal, Kafoor, Kishneez Khushk, Gule Nilofar, Maghz Chironji, Nagkesar, Nagbala, Maweez Munaqqa, Chhaliya Chikni, Ghee, Sheer-e-Gao, Shakar Safaid, Sat-e-Leemun.
Pack size
250 gm