In Stock
Hamdard Habbe Jadwar
Brand:

HAMDARD

Product Code:

HKHD0057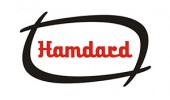 For Aphrodisiac, Erection & Longer Period & Sexual Problems..
Description
It is a very good aphrodisiac, maintains erection & retentive power for a longer period, useful in spermatorrhoes, liquefaction of semen and premature ejaculation, acts as a brain tonic, also useful in cough and cold.
Dosage
One or 2 pills, to be taken in the morning or night with 250 ml of milk.
Pack size
20 pills