In Stock
Hamdard Iksir Shifa
Brand:

HAMDARD

Product Code:

HKHD0098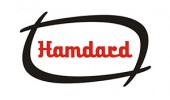 For Hypertension, Headache & Insomnia..
Description
It is a highly useful medicine for inducing sleep. It is also found to be effective for hypertension. headache,insomnia, epilepsy, hysteric fits & insanity. It provides soothing effect to the nerves and brain. .
Dosage
1 tablet, to be taken with 250 ml milk at bedtime.
Ingredients
Asrol, Nishasta Gandum, Sugar Of Milk, Chalk Powder.
Pack size
20 tab