In Stock
Hamdard Joshanda
Brand:

HAMDARD

Product Code:

HKHD0137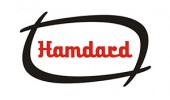 For Cough, Cold & Sore Throat..
Description
An age old remedy made from several beneficial singhe herbs, it has been successfully used for past 2000 years to cure cough and fever due to cold. It is also found to be useful in incidents of sore throat. The remedy is suitable for use by every one in all seasons. Dosage: Available with the pack.
Dosage
Direction available with tha pack.
Ingrediants
Viola odorata (Gulebanafsha), Onosma bracteatum (Gaozaban), Zizyphus sativa (Unnab) and Glycyrrhiza glabra (Aslassoos), Cordia latifolia (Sapistan) and Althaea officinalis (Khatmi)
Pack Size33 gm