In Stock
Hamdard Lahmina
Brand:

HAMDARD

Product Code:

HKHD0185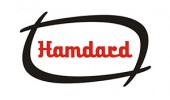 For Male & Female General Debility..
Description
It is an essence of those 40 important ingredients, which provide unlimited power and energy to human body. Its use provides a healthful life by removing general debility in males and females. It is effective in the management of continuous lack of interest in life and work, tiredness, laziness and sluggishness.
Dosage
50 ml or 3 tablespoonfuls early in the morning or at bed time.
Pack size
500 ml.