In Stock
Cure Herbal Active Sperm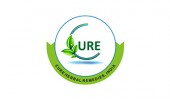 For Vigour & Vitality..
Description
Enhances sperm count, Premature ejaculation, Nocturnal emissions, Relieves backache due to sexual debility.
Ingrediants
Konch Beej (Mucuna pyruriens), Shilajeet (Black asphaltum), Tukham Atang (B/e pharis edulis), Asl-us-Soos (Glycyrrhiza glabra Linn), Satawar (Asparagus racamorus Wild), Gond Kaatera (Streculia urenus), Kushta Marjan (Caralium rubrum), Moosli safaid (Chlorophytum-arundia ceum), Aquarqarha (Anancyelus phyrethrum), indarjo (Wrightia tintoria).
Dosage
5 gm
Direction
5 gm morning and evening with 250 ml of milk should be taken. Or as directed by the physician.