In Stock
Cure Herbal Stone Cure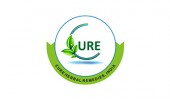 For Kidney & Urinary Bladder..
Description
This medicine assists in removing Kidney & Urinary Bladder Calculus through the urethra. Also useful for burning Micturition, Haematuria Dysuria, Dribbling and U.T.I.
Ingrediants
Shudh Shilajeet (Purefied asphaltum), Sheetal Chini (Piper cubeba), Sajji Khar (Natural form of Soda Bio Carb), Sindha Namak (Rock salt), Khar Khasak (Tribulus tessestris), Pharela (Parmelia periata), Kulthi (Doliches biflosus), Pakhan Bed (Caxitraga lingulata Wall), Makoh (Solanum nigrum), Tukhm-e-Kheyarain (Cucumis sativus), Tukhm-e-Kateeli (Amasanthus spinosus), Tukhm-e-Karfas (Apium graveolens), Tukhm-e-Kharbooza (Cucumisi Melo), Gulnar Farsi (Punica granatum), Habbul Qillat (Dolichos biflorus), Patthar Phodi (Achyranthus aspera Linn), Sugar Base (Invert sugar base).
Dosage
2 tablets
Direction
with stone cure syrup to be taken in the morning & evening with water.
Product Type
Tablets