In Stock
Hamdard Majun Hajrul Yahud
Brand:

HAMDARD

Product Code:

HKHD0211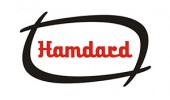 For Kidney & Bladder Stone..
Description
It removes stone and crystals from kidneys and bladder.
Dosage
6-10 gm, to be taken with 25 ml of Sharbat Bazoori Motadil mixed with water.
Ingredients
Maghz Tukhm, Kadu, Maghz Tukhm Khayarain, Maghz Tukhm Kharbooza, Habbe Kaknaj, Hijrul Yahood, Shahad.
Pack size
60 gm.