In Stock
Hamdard Khamira Gawzaban Ambari Jawahar Wala
Brand:

HAMDARD

Product Code:

HKHD0146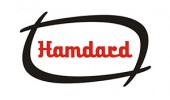 For Weakness of Brain & Heart & Improve Memory..
Description
It is more effective and gives more rapid results than all the above mentioned Khamiras. It is an excellent tonic for the brain & heart, and gives wxhilaration, removes brain weakness and improves memory, also useful in general weakness.
Dosage
5-10 gm, to be taken before breakfast, or as and when required.
Ingredients
Abresham Muqarraz, Badranjboya, Burada Sandal Safaid, Berg Gawzaban, Behman Surkh, Tukhm Balangoo, Tudri Surkh, Kishneez Khushk, Gule Gawzaban, Gule Khatmi, Shakar Safaid, Sat Leemun, Natroon Banjawi, Ambar Ashhab, Warq Nuqra, Zahar Mohra Saeeda, Zamarrud Saeeda, Marwareed Saeeda, Yaqoot Saeeda, Yashab Sabz Saeeda.
Pack size
75 gm, 150 gm and 1 kg.