In Stock
Hamdard Roghan Badam Shirin
Brand:

HAMDARD

Product Code:

HKHD0339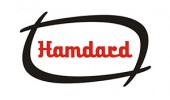 For Soft Skin & Supple & Weakness of Brain..
Description
A 100% pure sweet almond oil. Hamdard Roghan Badam Shirin is a one stop solution of total health care. It keeps the skin soft snd supplr. Straingthnes tha brain ,remove fatigure and induces sleep, it also relieves constipation.
Dosage
5-10 mlto beapplied on the scalp, and 1-2 drops to be instilled into the nostrils & ears, 5-10 ml. to be taken with 250 ml. of milk to relieve constipation.
Ingrediants
Relieves Tension, Strengthens Brain Power, Good for Heart, Relieves constipation, Fights dandruff, Keeps body warm in winter, Nourishes Skin, Prenatal / Postnatal Care, Helps build stronger bones, Good for infants
Pack Size25 ml, 50 ml & 100 ml