In Stock
Cure Herbal Chat Hazam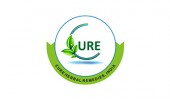 For Digestive System..
Description
Highly effective in Heart burn, Acidity, Gas formation, Indigestion, Constipation, Belching, Bloating, Stomach pain, Poor digestion, Nausea & Vomiting.
Ingrediants
Zanjabeel (Zingiber officinale Rosc.) Filfil syah (Piper nigrum Linn) Podina Khushk (Dry menthe Spicata Linn) Zeera Siyah (Carum carvi Linn)Piple (Ficus religiosa) T. Elaichi Khurd (Eletaria cardamomum Linn.) Chitrak (Plumbago indica) Simaq (Rhus coriaria Linn) Namak syah (Anaqua sodi) M. Kanwal Doda (Nelumbu Nucifera Gaerats) Satlemu (Citrus lemon (Linn) Ratz) Namak Sendha (Sodium chloride impure) Piple Mant (Ficus regi Linn) Anar (Punica granatum Linn) Nabat safaid (Sugar) Zeera safaid (Cuminum cyminum Linn)
Dosage
5 gm
Direction
to be taken as required with water.
Product Type
Powder