Out Of Stock
Hamdard Qurs Iksir Falij Wa Laqwa
Brand:

HAMDARD

Product Code:

HKHD0294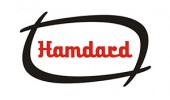 For Paralysis & Facial Palsy..
Description
It is useful in paralysis and facial palsy.
Dosage
1 tablet, to be taken in the morning & evening with 10 gm of honey.
Ingredients
Peepal Kalan, Jaiphal, Zanjabeel, Suranjan, Filfil Safaid, Gile Hirmji, Gond Keekar, Bichnak Mudabbar, Shringraf Mudabbar.
Pack size
25 tab.