In Stock
Hamdard Qurs Jawahar Mohra
Brand:

HAMDARD

Product Code:

HKHD0295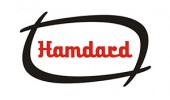 For Weakness of Heart & Physical Strength..
Description
It is a unique medicine which strengthens the heart and brings back its rhythm, has miraculous effect on patients with lost physical strength and close to death.
Dosage
60 gm, to be taken with 6 gm of Dawaulmisk Motadil Jawahar Wali on empty stomach.
Ingredients
Jawahar Mohra, Magnesium Carbonate.
Pack size
20 tab.