In Stock
Cure Herbal Easy Digest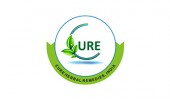 For Digestive & Appetite Stimulate..
Special price:


₹ 85.00

Old price:


₹ 100.00
Description
Useful in Acidity, Indigestion, Heart burn, Bloating, Constipation, Gastric Problems.
Ingrediants
Aloe vera (Aloe barbadensis Mill Syn), Darchini (Cinnamomum zeylanicum Blume), Filfil syah (Piper nigrun Linn), Sooth (Zingiber officinale Rosc.), Filfil daraz (Piper Longum linn), Post Haleela Zard (Terminalia chebula), Suhega biryan (Borax), Hing Biryan (Ferula foetida Regel syn.), Shahme Hanzal (Citrulluscynthis schred), sazaj Hindi (Cinnamomum tamala (Buch. ham.), Naushadar (Ammonium chloride), Namak Lahori (Sodium chloride impure), Namak syah (Anaqua sodi).
Dosage
Adult: 2-4 tabs, Children: 1 tabs
Direction
to be taken at 2-3 times a day.
Product Type
Tablets