In Stock
Cure Herbal Karela Jamun Ras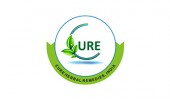 For Diabetes..
Description
Beneficial In: Diabetes,Regulates digestion, Helpful to spleen & liver Kidney, Eye sight disorder, Control of urination & intestinal worms, Natural source of phosphorous, Treatment of jaundice, Joints & Muscular pain.
Ingrediants
Karela (Momordica charantia), Jamun (Eugenia-jambolana).
Dosage
10-20 ml
Direction
with 1-2 cups of water twice a day.
Product Type
Syrup