In Stock
Cure Herbal Arthril Cure (Sugar Free)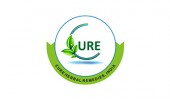 For Joints & Muscles..
Description
Pain and Inflammation of Joints. Rheumatoid & Osteo arthritis, Gout Back-ache, Sciatica, Rheumatism, Lumbago, Neuralgia and Spondylitis, Muscular cramps, Poliomyelitis condition, Paralytic conditions.
Ingrediants
Soonth (Zengiber officinalis), Ajwayin (Ptychotis ajowan), Sudh Gaudanti (Gypsum calcined), Sudh Kuchla (Strychnos nuxvonica Linn), Sudh Gugal (Commiphora mukul), Ushba (Smilex-ornar), Suranjan Shirin (Colchichuni Linn), Lahsun (Allium sativum Linn), Asgand (Withania somnifera), Baobarang (Embelia ribes Burm.f.).
Dosage
10-20 ml
Direction
Arthril Cure syrup in the morning and evening should be taken after meals alongwith water.
Product Type
Syrup